NTSU Black 14 gr.. bienvenido a Sudafrica por JUCAR SPerience
....un tabaco negro de gran potencia , podria decir que cuando se acerca a la nariz te llega con su frescura amoniacal característica de los tabacos gruesos subafricanos , te adentras en selvas pantanosas de cieno en las que buscas un claro para el descanso y en nariz notas que debes tener cuidado con la cantidad de tabaco, pues te puede sorprender la bestia con un ataque de Nicotina que puede tumbarte , lo que haces es dejarte llevar , disfrutar de esa fuerza que te hace acabar un dia de duro trabajo , tabaco para cazadores expertos , que dominan cualquier situación de riesgo , para mi un 4 de 5 ,un grande entre los poderosos...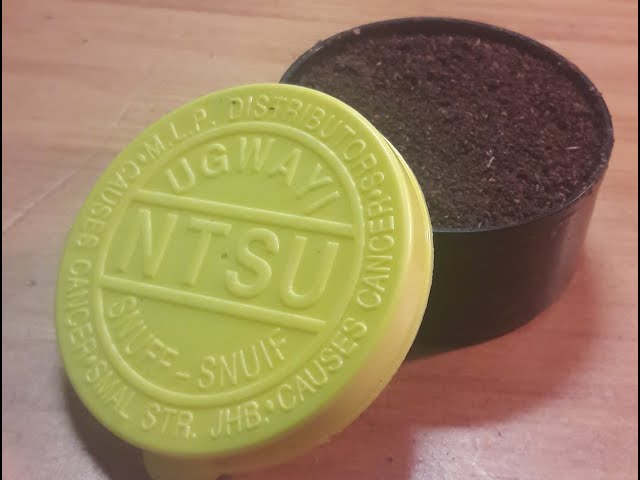 Great snuff
Can't live without it day in day out even during covid 19, l take precautions since I have to snuff it using my fingers.
Very good
Smells like dirty tobacco, I like it. Very coarse and moist, so if taken properly, it stays in the front of the nose and you don't worry about back drip or it hitting your throat. You will need to have a handkerchief on you. Quite strong too, of course.
NTSU Black 14g
Pleasantly surprised! On first opening I was repulsed by the smell and confused because of how coarse and moist it was because this was my first time trying South African snuff. I gave it a try after about 4-5 days and it slowly became one my favorites. The aroma is an acquired taste and because of the coarseness you have to experiment to find the best way of using it, but once I figured it out it was amazing. I love the moisture of it because it stays in your nose and gives a longer lasting nicotine, while at the same time it will help coat and moisten up your nose in preparation for the more fine and dry snuffs that I had been used to. This will definitely be one that i keep in my rotation.
NTSU Black 14g
This snuff comes pretty much as described; but it is one thing to read about it and another to experience it. Upon opening it I definitely realized what was meant by ammonia and farmyard smells, but not in a seriously bad way. After some time and a bit of air this snuff really opens up to some complexity, though it still lacks the refinement of some of the higher end coarse plain snuffs (I'm thinking of Ronsinski's). Also, the coarseness and moistness are no joke; combined with the nic. hit this makes a heavy hitter. All of that said I found neither the moistness pleasant in that it made the coarseness much easier to handle. In Sum, I think this will become a stable friend for when work needs to be done and I don't have time to waste taking careful sniffs of fine/dry snuffs; there will be time for that later. I can't wait to try the other brands/options of S. African snuffs.