NTSU Black is a symbol of deference for the African-Crowned eagle, said to be the most powerful on the continent. This majestic overseer can sometimes be spotted near the Luvuvhu River of South Africa and has the aspect of royalty surrounded by azure. The reverence to this king of the skies has enabled this snuff to be born. The blend of dark flue-cured tobaccos result in a rich, moist and pungent mixture that delivers a ferocious and merciless assault of nicotine that is reputed for its power and endurance. Vumela ukhozi lundize.

Available in a convenient 15 gram container size.
Also available with a discount by the dozen.
You may also wish to try some NTSU Green as well.
Please hit the
Write a Review
button below and let us know what you think. This really helps fellow enthusiasts choose
.
Great!
So strong. Reminds me of copenhagen snuff but for the nose.
Witty title
I ordered this as a novelty, I was curious about "barnyard" pleople talk about. As soon as I opened tin straight amonia, I'm not going to air it out because I ended up liking it, and I see what people mean by barnyard now, it's a good snuff, hits strong. I took a pinch after a long day of work, I was tired, and it woke me up no joke. When I snuff this sit makes me feel manly lol
NTSU Black 14 gr.. bienvenido a Sudafrica por JUCAR SPerience
....un tabaco negro de gran potencia , podria decir que cuando se acerca a la nariz te llega con su frescura amoniacal característica de los tabacos gruesos subafricanos , te adentras en selvas pantanosas de cieno en las que buscas un claro para el descanso y en nariz notas que debes tener cuidado con la cantidad de tabaco, pues te puede sorprender la bestia con un ataque de Nicotina que puede tumbarte , lo que haces es dejarte llevar , disfrutar de esa fuerza que te hace acabar un dia de duro trabajo , tabaco para cazadores expertos , que dominan cualquier situación de riesgo , para mi un 4 de 5 ,un grande entre los poderosos...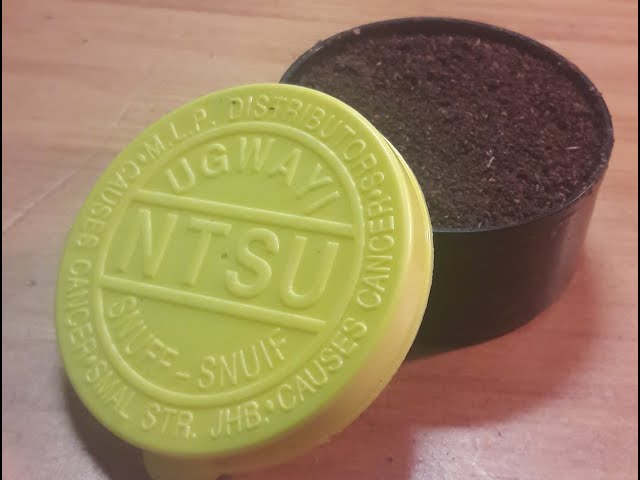 Great snuff
Can't live without it day in day out even during covid 19, l take precautions since I have to snuff it using my fingers.
Very good
Smells like dirty tobacco, I like it. Very coarse and moist, so if taken properly, it stays in the front of the nose and you don't worry about back drip or it hitting your throat. You will need to have a handkerchief on you. Quite strong too, of course.